💎 Premiere Luxury Decorative Concrete
We are Florida's West Central Coast's Premiere Luxury Decorative Concrete Company. Specializing in Exotic & Tropical Wood Species Microtopping Overlay, Luxurious Medallions & Custom Image Inlays, Custom Themed Concrete, as well as Exotic & Domestic Rock Sculpture. We also Provide Stunning Decorative Concrete Flooring.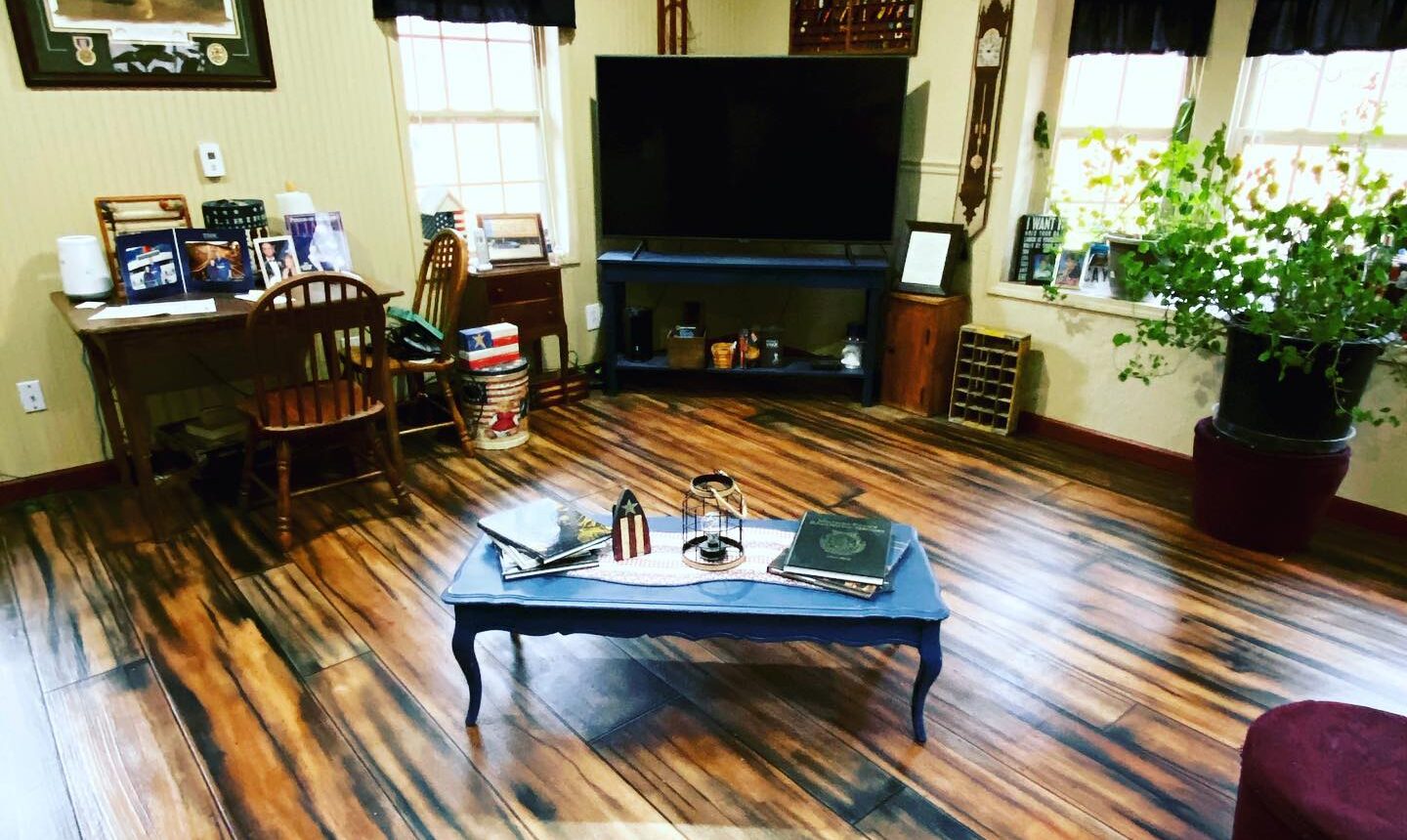 We Help Clients Design a Certain Vision They Have & Bring That Legacy to Life.
Simply offering what others cant!
Exotic & Tropical Concrete Wood
Having a hard time finding exact exotic wood or tropical hardwood flooring you want because it doesn't exist or is unavailable? We have the solution with our Exotic and Tropical Concrete Wood Flooring.
Have your existing concrete transformed into the look of Any Species of Wood from Exotic to Tropical or even Domestic Wood.
One of our Most popular options is the WhiteWashed BeachWood. A fantastic weathered & aged boardwalk look complemented by several grey tones touched by a crisp white wash that can be customized to our clients liking.
Contact us for a free design consultation. We'd love to go over the fine details with you!
Interior or exterior, this option is superior to other flooring options & will absolutely be the topic of conversation. NO concern from moisture or weakness that other laminate-type, vinyl, or wood surfaces provide. Our cementitious coating is as tough as petrified wood& can permanently transform the look of any living/family room, patio, porch, lanai, pool deck, showroom, or commercial location. A Great option for restaurant high-traffic flooring. Suited for vehicle traffic, Yes that means your driveway too! Wood never goes out of style, & concrete lasts for ages. A perfect edition just for you that will withstand the test of time.
Turn your back yard or space into your very own PERSONAL OASIS.
Outdoor Living & Custom Concrete
An outdoor living space is a great place to relax, unwind & entertain. Regardless of the size of space available, there are so many ways to create an inviting outdoor living area & we are ready to design just for you.
Having a hard time envisioning what things will look like? We take out the guesswork with our professionally drawn or clay sculpted renderings to ensure our clients get the exact design of their dreams.
Turn your back yard or space into your very own PERSONAL OASIS, with a beautiful outdoor kitchen or entertainment area. Providing our clients with unique looks, style & luxury with unmatched durability. Quality that truly stands out.
Concrete isn't just for floors. The vertical concrete arena has expanded largely into outdoor spaces that would be a natural fit such as artificial rocks for waterfalls & things like that of nature (like)
outcroppings & hardscapes, But it has also opened the door to seat walls, planters, outdoor fireplaces, outdoor kitchens, etc.
Contact us today to get started!
Fireplaces & firepits are beautiful design features that heighten the functionality of any outdoor living space. Perfect for gathering with loved ones. Just ask about our Smores Package. Its a family favorite. The firepit and seating wall combo appeals to all ages! This feature Adds architectural interest to flat hardscapes & creating cozy conversation areas by defining patio borders. Does your patio need some extra oomph!? Utilizing foam core construction, the impossible IS POSSIBLE!
EPS foam has been used in the concrete industry for over 35 years. It has proven to be a reliable & dependable material since the 1950's & has more recently been showcased to have unlimited design potential. it IS CONSIDERED A Green building material & can improve overall structural durability despite its light mass. Whether your vision includes a fire feature, pergola, covered structure, pool grotto, water feature or water fall, outdoor grills or kitchen, seating wall, swimming pool deck makeover, a water slide, or even custom spa, we can achieve it!
Our themed creations can re-create anything!
Our themed creations can re-create anything.We blend old techniques with the new – resulting in unique & realistic creations for our clients.
Artificial Rockscapes in an infinite amount of choices with fully customizable finishes, great for landscaping, functional hardscape designs, or any design.
All hand carved using cement additives, mortars, & shotcrete to resemble natural rock formations, water features, ponds, waterfalls, reproductions of coral and coral reefs, bamboo & tiki huts, trees & wood, replicas of ancient artifacts & historical items. If you can dream it, we can make it a reality & a Boulder Legacy for you.
Providing clients with quality creative designs, communication, & service. Our team has vast knowledge and experience in fabrication & professional installation services.
Quality projects on time & on budget. Together, our team is fully knowledgeable and uses many mixed medias such as GFRC(glass reinforced fiber), epoxy resins, mortars, custom blend additives, polymers, and many more trademark techniques & mediums.
There's no project too big or too small. Contact us to get started!
The sky is the limit here, & we welcome you to the top.
Medallions & Custom Image Inlays
Let's bring your custom medallion or concrete floor inlay ideas to life!
We know that for every work of art there is an equally unique story behind it.
With a custom floor piece you can instantly relive a hundred memories and forever have a treasured keepsake. Our talented artists will walk you through the design process and have you confident & feeling excited about what you are about to witness..
Want a whole floor for the design, not just an inlay or centerpiece? We have you covered there as well. We pride ourselves in having the capabilities to create large scale from a photo or rendering of your choice.
Are you ready to get started?
We'd love to hear from you! Please don't hesitate to reach out with any questions, comments, or inquiries – our team is here to assist you.
Proudly Serving Zephyrhills · Town and Country · Downtown St. Petersburg · Brandon · Spring Hill · Belleair · Dunedin · Riverview · Tampa, an the surrounding communities.